Let's Get Real: Episode 1 My Mom talks about my personal experience of losing my mother and her influence on The Impactful Parent business
Click on the link below to listen to the podcast!
Let's Get Real: Episode 1 My Mom Links in Episode 👇
Rate, Review, & Subscribe!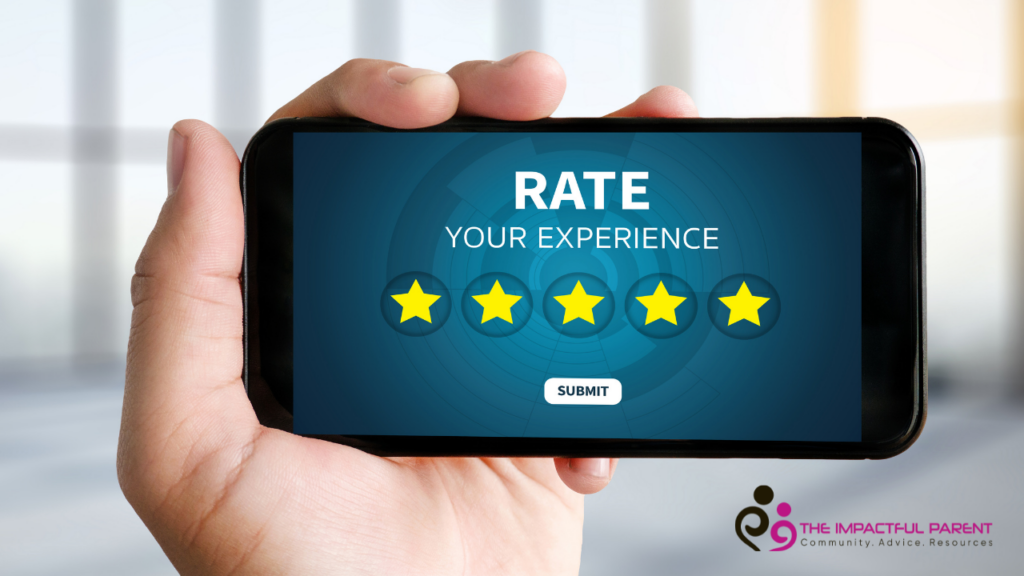 "I love Kristina and all the FREE tips that she has to offer!  Thank you for making my parenting journey better!"  <– If that sounds like you, please consider rating and reviewing my show! This helps me support more people — just like you!!!
Rate with five stars, and select "Write a Review." Then be sure to let me know what you loved most about the episode!
Also, if you haven't done so already, subscribe to the podcast. I'm adding a bunch of bonus episodes to the feed and, if you're not subscribed, there's a good chance you'll miss out. Subscribe now!
Transcript for Let's Get Real Live: Episode 1 My Mom
Read this blog.  This one is different than my others.
Hi, I'm Kristina.  I'm the founder of The Impactful Parent. Every week I do live videos for you. I answer your parenting questions that you submitted throughout the week. This week, I didn't have a question. Instead, I decided to get personal, which I rarely ever do. If you've been following me for any time, you know that I give parenting advice. I help parents with school-aged kids, but I rarely talk about myself. It's like my personal brand isn't very personal.  I'm going to try to change that, starting with this live video. And I'll tell you, this is out of my comfort zone. Why? You probably think she does videos every week, and I get on camera all the time. Still, I don't really like talking about my personal life. I also want to respect my kids.  I don't want to pour their dirt out to the public. Plus, I don't like showing their faces on social media for safety reasons. And yet, I'm a parenting coach who doesn't show her four kids. It's weird.
If you're still following me, I want to tell you I appreciate you. This is hard work being an entrepreneur. I quit my teaching job, which I loved, to do this. I wanted to help people on a larger scale.
Today, I want to talk about my mom. I hope I'm not going to cry. See, I lost my mom to cancer about 11 years ago. My mom never knew my last two children, who are now ages nine and 11. I was pregnant with my third when she passed away. My mom would be really proud that I started my own business and try to help people. She was the nicest lady I've ever met.
My mom was a big influence on how I parent. She was soft and gentle. She showed me that I didn't have to be a mean parent to be a good parent. I am Hispanic. My ancestors are Mexican. I come from a culture where dominance is prevalent, they spank their kids, and kids are often told to suck it up. My mom wasn't like that. I discovered that there was a different way to parent my kids.
I feel guilty for being a horrible teen to my mom. Today I understand that teens naturally have a conflict with their same-sex parents. It's instinctual. I feel guilty that my mom bugged me for no reason. I feel horrible about it to this day. And yet I know it's really not my fault. It was my hormones telling me to do that. Still, it's hard to forgive yourself when you can't tell your mom sorry. Despite that, I had a really good relationship with my mom.
I miss my mom a lot. Around Mother's Day, I always want to say something publicly about not having my mom on that special day, but I never do. It doesn't seem appropriate because I want people to enjoy their mothers. I don't want to be a downer on Mother's Day! The holidays are difficult too. Really, I miss her every single day. I have a great support system. I actually have an amazing stepmom. My dad remarried.  She is an amazing lady, and I probably don't utilize her enough. My stepmom is one of my biggest supporters of The Impactful Parent. I appreciate her a lot since I don't have my own mom here. (Ok, I'm crying, and I am about to get blubbery, so I don't want to talk anywhere.)
I'm going to try to make this personal brand, Kristina Campos, founder of The Impactful Parent, more personal. You're welcome to ask me parenting questions, but also, you can ask me questions about myself. Maybe next week, I'll pick your question to answer live right here. So go ahead and DM me, or you can write me an email at theimpactfulparent@gmail.com.  Your submissions are always anonymous. I just appreciate your support. Let me know what you need because that's why I do this. It makes me feel good. So let's grow, amazing children. Thanks, everybody.
It takes a lot to run a business and family! Here are a few products I recommend:
Gabb Wireless: The BEST first phone for your child! 
No internet, no social media, and NO WORRIES! This phone has GPS tracking and other features that parents want to have peace of mind about their child having a phone. The Gabb Wireless phone has the sleek look of a smartphone that kids love without worry and high price.  To find out more and order your phone (or watch) go to: gabbwireless.com/promo/IMPACTFULPARENT30
The Contract Shop
Protect your contact and your business with the Contract Shop. The Contract Shop provides DIY legal contracts that you customize for your business and your business needs.  Contracts are important and legal documents are boring!  The Contract Shop provides the security you need without the big price tags of an expensive law firm. Try it out today and please use my affiliate link for referring you because I get a small kickback for recommending The Contract Shop products.  Here is your link: https://thecontractshop.com?ref=kristinacampos
Mobile Monkey
Mobile Monkey helps you gain more engagement in your social media posts by providing you with a ROBOT to client questions in your DM. This bot is genius and saves so much time!  Use your robot to respond to common questions, to create keywords your audience can type in order to receive special links, get analytics, auto-responses and so much MORE!  Mobile Monkey should be helping every content creator's business because at this low price- there are no excuses for getting more time, ease in your business, and increased engagement!  Please use my affiliate link to order: https://app.mobilemonkey.com/instachamp?a_aid=kristinaann