How To Encourage Leadership In Children with Danielle Cobo gives tips for parents to do at home to foster leadership and grow the next generation of leaders!
Click on the link below to listen to the podcast!
How To Encourage Leadership In Children Links in Episode 👇
Rate, Review, & Subscribe!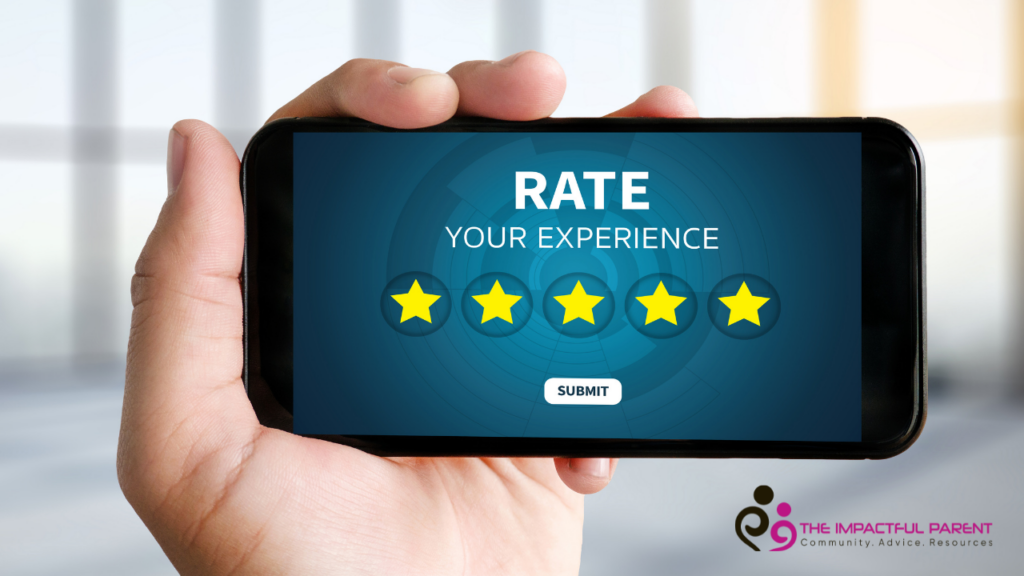 "I love Kristina and all the FREE tips that she has to offer!  Thank you for making my parenting journey better!"  <– If that sounds like you, please consider rating and reviewing my show! This helps me support more people — just like you!!!
Rate with five stars, and select "Write a Review." Then be sure to let me know what you loved most about the episode!
Also, if you haven't done so already, subscribe to the podcast. I'm adding a bunch of bonus episodes to the feed and, if you're not subscribed, there's a good chance you'll miss out. Subscribe now!
Transcript for How To Encourage Leadership In Children:
Kristina: Today's episode talks about how parents can foster leadership in their children. Hello, my name is Kristina Campos. I'm the founder of The Impactful Parent. Today's guest, Danielle Cobo, is a leadership coach with over 14 years of experience leading fortune 500 companies. Thank you for being here, Danielle.
Danielle: Thank you. It's an honor to be on today's show. I appreciate it.
Kristina: I'm going to start off with why parents need to know about emotional intelligence because that's really what we're going to be talking about today: emotional intelligence and how that fosters leadership.
Danielle:  Great question.  Studies say that kids with high emotional intelligence (or even adults with high emotional intelligence) tend to succeed more in life than those who don't have a high EQ.  When you're able to be aware of your emotions and manage them, that's when you get to really show up as a leader in life.
Kristina:  Define emotional intelligence, please.
Danielle:  Having a high level of emotional intelligence is understanding your emotions. What your emotions are, as well as what your triggers are. Everyone has triggers. Triggers are something that sparks anxiety or frustration, or impatience. When you can identify what the emotion is and what the triggers are, you can support yourself in managing those emotions.  There are different levels of emotional intelligence.
Kristina: Emotional intelligence is useful for many different parts of life. I have a behavior management program where the essence of the program is teaching parents how to teach their children emotional intelligence. In the program, participants learn how to identify triggers, identify feelings, and control feelings.  E.I. is great for anger and anxiety management. Now you tell us that emotional intelligence is also great for leadership skills, right?
Danielle:  Yes! It's big for leadership because when you understand different triggers, you're able to shift your mind out of chaos. With emotional intelligence, you can learn how to accomplish anything you want in life because what holds us back is a mindset. We can do a lot to shift our mindset, boost confidence, and have the confidence to lead others. In a corporate setting, vulnerability can be very powerful.  When you're able to be vulnerable, others can connect with you on a deeper level.  Connection fosters the culture within organizations. Connection is how a great leader translates his vision into reality. Leaders need to need to earn the 'know, like, and trust' from either team.
Kristina: Great! How can parents do that? How do parents support kids in developing this high emotional intelligence that you're talking about?
Danielle:  Great question. The first step is identifying emotions. Learn how to have an open dialogue with your kids. Ask them HOW they feel, WHERE they feel their emotions in their bodies, and HOW it affects them. Often the first response a kid has to questions is surface level. I say, always ask three times, what else? The third response is typically the core of what's causing those emotions.
Kristina: I know parents can relate to this.  How many times do parents ask kids, "How was your day," and the response is just, "Fine." OR, "What did you do today?" and the response is, "nothing." Parents need to keep probing and asking more questions to get their children to open up. Parents should be asking questions like, " How did that make you feel, Was there something that you could have done differently? What would you change?" Those are the kinds of questions that parents need to ask to understand their child's feelings.
Danielle:  Parents should coach kids through conflict resolution also.  If something happens at school, talk about it and possible resolution scenarios.  Anticipate three different scenarios when you're approaching this conversation. This empowers kids and gives them the tools they need to problem-solve.
Another way that we can support our kids is by acknowledging their emotions. In previous generations, parents encouraged kids not to cry, toughen up, and brush it off. This creates a wall with kids where they feel like they can't express their emotions. The consequences of not expressing emotions are mentally harmful. Kids then bottle it up. In the long term, the child has a hard time communicating and connecting with others.  Sometimes the bottled-up feelings come out as anger. Instead, provide your child with a safe space to express their emotions.  Emotions are good.
Kristina: Yes! No emotion is wrong. Validate their feelings. What else can parents do?
Danielle:  Excellent question. Parents need to shift their language. For example, change have-to, to get-to-do.
If we're constantly telling kids, "I have to go to work," then they learn that jobs are unenjoyable and an obligation. But, if we say that we get to go to work, then the mindset on a job because something of optimism. Shift your language from what I have to do versus what I get to do. The transformation is powerful.
Another way that we can shift our language is by saying words such as support versus help. When you offer help, it almost implies that they can't do the task at hand. However, when you say, "How can I support you," the child feels good about getting assistance. The word support empowers the child by assuming that they can do the task alone if they choose. The word support also encourages togetherness.  It says, "We can do this together as a team."
My last suggestion is to lead with the word YES. Kids hear "no" way too often. Try to lead with yes as much as you can. Shift your language and tell them what they CAN do first.
Kristina: How we speak to our children is so influential. Parents become the inner voice of their children. Role modeling is the key. So, in essence, your child's leadership skills begin with the parents role modeling the behaviors they want to see in their children. Leadership starts with us! Parents need to exhibit the mindset first, and the children will follow. That is how we start to cultivate awesome leaders. It doesn't really matter what age your child is. You can start implementing these quick tips today
Danielle, if people want more from you, where can they find you?
Danielle:  I have a website, www.daniellecobo.com, where I host leadership training for corporations and individuals. I love supporting our future generation of leaders!
Kristina: Until next time, you got this, parents. We are just here to help.
It takes a lot to run a business and family! Here are a few products I recommend:
Gabb Wireless: The BEST first phone for your child! 
No internet, no social media, and NO WORRIES! This phone has GPS tracking and other features that parents want to have peace of mind about their child having a phone. The Gabb Wireless phone has the sleek look of a smartphone that kids love without worry and high price.  To find out more and order your phone (or watch) go to: gabbwireless.com/promo/IMPACTFULPARENT30
The Contract Shop
Protect your contact and your business with the Contract Shop. The Contract Shop provides DIY legal contracts that you customize for your business and your business needs.  Contracts are important and legal documents are boring!  The Contract Shop provides the security you need without the big price tags of an expensive law firm. Try it out today and please use my affiliate link for referring you because I get a small kickback for recommending The Contract Shop products.  Here is your link: https://thecontractshop.com?ref=kristinacampos
Mobile Monkey
Mobile Monkey helps you gain more engagement in your social media posts by providing you with a ROBOT to client questions in your DM. This bot is genius and saves so much time!  Use your robot to respond to common questions, to create keywords your audience can type in order to receive special links, get analytics, auto-responses and so much MORE!  Mobile Monkey should be helping every content creator's business because at this low price- there are no excuses for getting more time, ease in your business, and increased engagement!  Please use my affiliate link to order: https://app.mobilemonkey.com/instachamp?a_aid=kristinaann