Keeping Kids Safe From Offenders: Tips parents need to teach their children to keep them safe.
Click on the link below to listen to the podcast!
LINKS MENTIONED IN THE RECORDING Keeping Kids Safe From Offenders: 👇
Rate, Review, & Subscribe!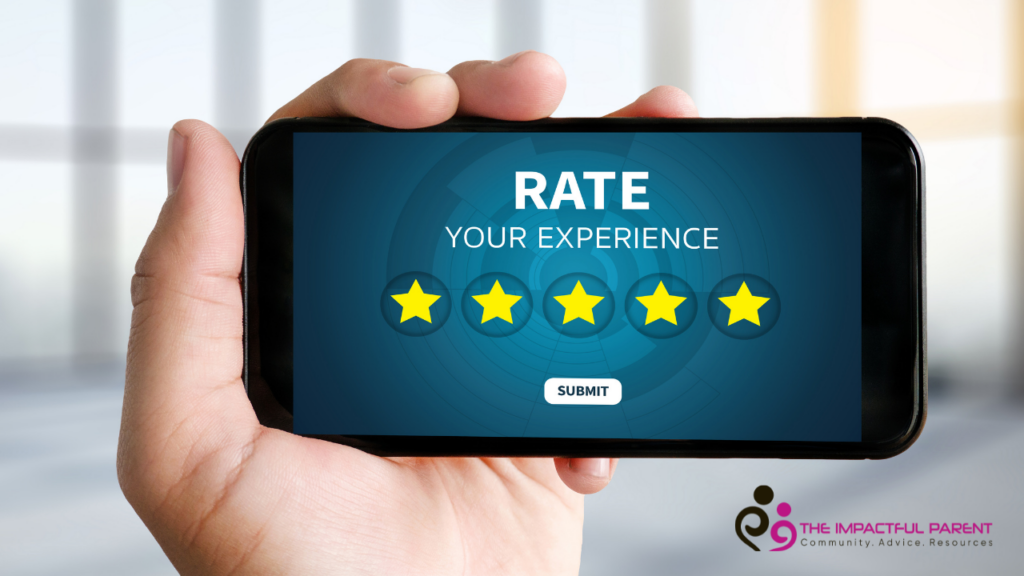 "I love Kristina and all the FREE tips that she has to offer!  Thank you for making my parenting journey better!"  <– If that sounds like you, please consider rating and reviewing my show! This helps me support more people — just like you!!!
Rate with five stars, and select "Write a Review." Then be sure to let me know what you loved most about the episode!
Also, if you haven't done so already, subscribe to the podcast. I'm adding a bunch of bonus episodes to the feed and, if you're not subscribed, there's a good chance you'll miss out. Subscribe now!
Transcript for Keeping Kids Safe From Offenders
Keeping your child safe from offenders.
Today's question from the audience:  "I have a big fear that my child is going to be a victim of an offender or kidnapper.  It is a reoccurring nightmare that I have, and it bothers me a lot.  What can I do to prevent my nightmare from becoming a reality?"
Great question, and today I will give you some quick tips for keeping your child safe.
First of all, be aware that most offenders and abductors are not strangers.  This is a common misconception.  90% of sexual assault is committed by a person in a position of trust that your child knows.  This even includes family members.  So although it is very important to teach your child some basic information like, don't take candy from strangers, run away towards the rear of the car if you suspect a car is following you, tell your parents about any adult that makes the child feel uneasy, always tell someone where you are going, and never walk alone in the dark, you have to remember that most of the "bad guys" are actually someone that your child already trusts.
But let's begin with arming your child with tools for strangers first.  Besides the tips already mentioned, ensure that your child understands that some predators will lure your child in with things they know they love.  For example, Do you want to see my puppy? Roleplay with your child how they will react to strangers who try and entice them. Also, ask your child if they know your address and phone number.  Make sure that this information is memorized and that your child can spill out this information effortlessly and on-demand.  Teach your child to step away from vehicles that pull up beside them, even if the driver looks lost or asks for help.  Tell your tween or teenager not to walk and text at the same time.  Walking with their head down makes them a target. Adolescents need to be aware of their environment, who, where, and what is around them.
Now let's talk about some tips for keeping your child safe around someone they know. Unfortunately, this is more likely to be the scenario you fear.  First of all, teaching your child to blindly obey authority can be detrimental to your child's safety. Abductors and offenders will prey on easy targets first. That means that if you have a child who is taught to do whatever they are told, despite being uncomfortable, sad, or hurt, you also have a child who is more susceptible to being victimized.  As a parent, you don't want to say things like "Be good and do what they tell you," or "don't question Uncle XXX, be respectful." Although you may mean well and just want to teach your child respect for elders, this can set your child up for dangerous situations. Instead, teach your child to cooperate with adults but report anything that makes them feel uneasy.  It's important that your child feels like they can come to you for help and clarification.  Sometimes perpetrators start small to test the waters and see what the child will allow.  Your child needs to be able to come to you to clarify their confusion and weird feelings without the fear that you will freak out or not believe them.  This is important.
Another thing you can do is teach your child how to say no.  I know what you're thinking. My child already knows how to say no.  But saying no to you isn't the same as saying no to a stranger or saying no to a person they trust, like an uncle, a teacher, or a friend at school.  They need to practice this aloud and use their body to reinforce the message that they mean no. Roleplay how to say no with not only their words but with their whole body.
Of course, it is good to know who lives in your neighborhood and check the sex offender registry.
Teach your child about appropriate and inappropriate touch. 
Always get a good background check with anyone you leave your kids with.
Educate your child about the dangers of talking to strangers online and meeting up with people they don't know.  This is especially important for teens and kids using dating apps.
I also suggest making sure that your child always has a way to get ahold of you and for you to know their location.  This can be done easily through cell phone GPS features. My own children wear GABB watches/phones.  These devices are great for the tween years when you want to keep the lines of communication open with your child, but you don't want them online.  Gabb watches and phones don't have apps, internet, or games.  But they do have GPS and are good working phones.  To learn more about Gabb phones and watches, go to: www.gabbwireless.com/promo/IMPACTFUL30
I know this is only a taste of how to keep your child safe.  Mainly, I wanted to make you aware that kids don't inherently know any of today's skills.  They must be taught by us, the parents.  They must be practiced so they can be instilled into their automatic brain. They must be repeated often so that safety procedures are second nature.  So talk to your child and make sure they are armed with the tools they need.
For more tips for child safety, watch this video here: https://www.youtube.com/watch?v=_jY1wj2J4fo&t=106s
But until next time, parents, you got this. I am just here to help.
It takes a lot to run a business and family! Here are a few products I recommend:
Gabb Wireless: The BEST first phone for your child! 
No internet, no social media, and NO WORRIES! This phone has GPS tracking and other features that parents want to have peace of mind about their child having a phone. The Gabb Wireless phone has the sleek look of a smartphone that kids love without worry and high price.  To find out more and order your phone (or watch) go to: gabbwireless.com/promo/IMPACTFULPARENT30
The Contract Shop
Protect your contact and your business with the Contract Shop. The Contract Shop provides DIY legal contracts that you customize for your business and your business needs.  Contracts are important and legal documents are boring!  The Contract Shop provides the security you need without the big price tags of an expensive law firm. Try it out today and please use my affiliate link for referring you because I get a small kickback for recommending The Contract Shop products.  Here is your link: https://thecontractshop.com?ref=kristinacampos
Mobile Monkey
Mobile Monkey helps you gain more engagement in your social media posts by providing you with a ROBOT to client questions in your DM. This bot is genius and saves so much time!  Use your robot to respond to common questions, to create keywords your audience can type in order to receive special links, get analytics, auto-responses and so much MORE!  Mobile Monkey should be helping every content creator's business because at this low price- there are no excuses for getting more time, ease in your business, and increased engagement!  Please use my affiliate link to order: https://app.mobilemonkey.com/instachamp?a_aid=kristinaann