Jane Epstein comes onto the Impactful Parent stage and tells her story of sibling sexual abuse. This silent epidemic is rarely talked about publicly, but many families need support. Jane Epstein provides the Impactful Parent audience education, awareness, and resources for help in this very important episode.
Click on the link below to listen to the podcast!
Sibling Sexual Abuse Awareness. Links in Episode 👇
Rate, Review, & Subscribe!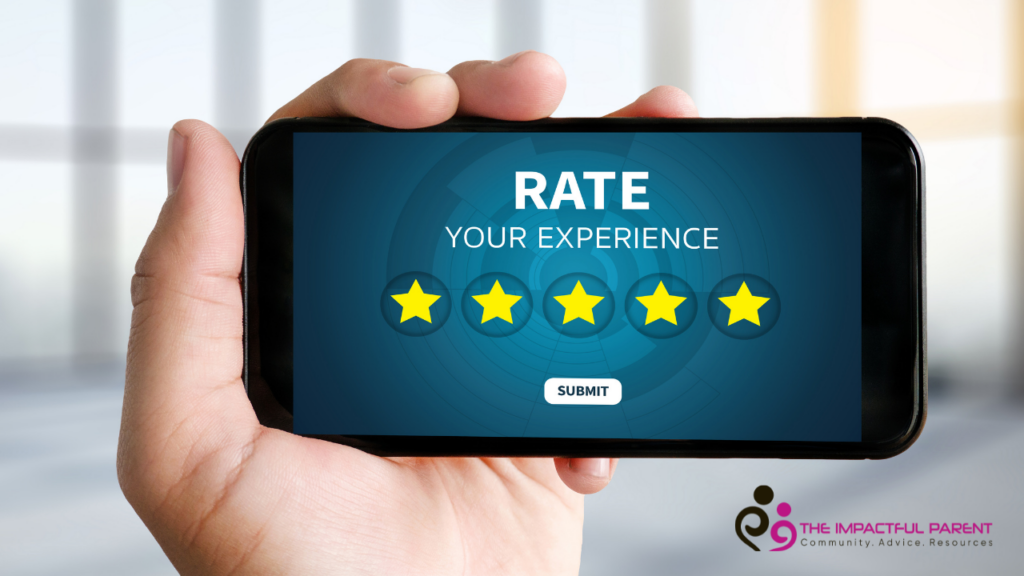 "I love Kristina and all the FREE tips that she has to offer!  Thank you for making my parenting journey better!"  <– If that sounds like you, please consider rating and reviewing my show! This helps me support more people — just like you!!!
Rate with five stars, and select "Write a Review." Then be sure to let me know what you loved most about the episode!
Also, if you haven't done so already, subscribe to the podcast. I'm adding a bunch of bonus episodes to the feed and, if you're not subscribed, there's a good chance you'll miss out. Subscribe now!
Transcript for Sibling Sexual Abuse Awareness
Kristina: Welcome to The Impactful Parent. Today we're going to talk about a silent epidemic that's happening around the world. It is sibling sexual abuse. In today's episode, I'd like to bring awareness to the silent epidemic and give you prevention tips. Hello, my name is Kristina Campos. I'm the founder of The Impactful Parent, and welcome to my Inspire and Learn series, where real parents come on and tell their story of inspiration and learning because a wise man learns from his mistakes. Still, a wiser man learns from other people's mistakes. Today we're going to learn from our guest Jane Epstein.  Jane is a sibling sexual abuse survivor and advocates who speaks about tools parents can use for prevention and victims can use for recovery. I'm happy to have her on the show today. Thank you for being here, Jane.
Jane:  Thank you so much for having me, and thank you to your guests who are listening.
Kristina: Jane, I want to talk about your story first. Would you mind telling us about what happened to you?
Jane:  I'm going to give you the shortened version of my story. My story happens out of order because my life kind of happened out of order. That's the easiest way to describe it. When I was about 45 years old, I found myself incredibly depressed, and I was sitting at the bottom of the staircase holding my eight-year-old son's hand. I wanted to tell him, I'm sorry, I failed you as a mother. Because I had that sense of dread rising into my chest, I felt like my life was coming to an end. Turns out that was depression. It was at that moment that I decided I needed to figure out what was going on. Why am I so unhappy? I'm married. I have two children, I should be happy.
I started writing my story down from the start until the present day. I realized that I had been sexually abused from age six until 12 by an older sibling when I started doing that. After that, I became promiscuous, and I became so promiscuous that I became a stripper. Being a stripper actually gave me power. I felt pretty, and I learned how to talk to men.  It doesn't happen often, but I met my first husband stripping. He was actually a patron in the club. He came up, and he tipped me and said, "What are you doing here? You look like the kind of girl I can take home to meet my mom."  And he did just that. I did meet his mom, and we were married. We actually had a really nice love affair, but at some point, I started resenting him because I wasn't known inside. I didn't understand that, but he didn't know the real me. He didn't know the shame I held.  I started resenting him, and I started pushing him away.
Then my husband was diagnosed with terminal cancer. When he died, I felt for the first time. I'd spent 40 years hiding and being numb. With his death, I couldn't avoid the pain.
To my surprise, I got remarried and had two small children. That's when the memories came back of the sexual abuse, and that's when I ended up depressed at the beginning of my story.  I ended up having to turn inward and discover what was going on inside of me that needed to be addressed to move forward.
Kristina: That's an amazing journey. I don't feel like it's unusual. Sexual abuse memories can get suppressed and then come back later in life when something triggers it. I'm glad that you found where you are now and are helping others. Thank you for doing that.
Jane: Thank you. I feel very fortunate to have come to this part of my life where I can give back.
Kristina: Let's talk a little bit about sibling sexual abuse. How likely is this to happen in families?
Jane: Sibling sexual abuse includes step siblings, cousins, and older adolescents. So think about your child's best friend's older brother or sister. In fact, 35 to 40% of child sexual abuse is estimated to be perpetrated by juveniles. So it is a silent epidemic and is happening. We just aren't talking about it.
Kristina: I want to identify the difference between normal child curiosity versus sexual abuse. Can you make that difference for the audience?
Jane: It's a very confusing aspect of sibling sexual abuse and part of the reason it's hidden so well. Children are curious. Absolutely. Curiosity is between children the same size, same age, and at the same developmental level. Curiosity is exploratory and spontaneous. Think of two children giggling and playing doctor once or twice. The behavior stops after a couple of times or after a parental intervention. Sexual abuse occurs when the children are at different ages, sizes, and developmental levels. Sexual abuse is hidden. It's behind closed doors, and the motivation is sexual gratification or power.
Kristina: I want to make things clear that the older child may not have malicious intentions.  They really could be curious, but their actions are still considered abuse because of the age difference.
Jane:  That is correct. Often their motives start as curiosity but evolve into abuse, as in my situation.  I had an older sibling who was curious, started touching me, and it went on for six years because their body reacts the way it's supposed to react.
Kristina: What are the factors that lead to sibling sexual abuse?
Jane: There's not just one thing that can lead to it, but I will walk you through a couple scenarios. The first is a lack of body safety education. It's important to read books to your child about body safety, boundaries, the right to say no, and kids knowing the correct terms for private parts.
Second, educate your 10-13-year-old about sex, puberty, and their changing body. Kids are going to have questions. They're going to want to find answers. You want your child to be comfortable going to you for help and not seek out a younger sibling or a younger cousin or the internet for those answers.
Third, watch out that your child isn't exposed to pornography. Sometimes avoiding pornography is impossible because your child will stumble upon it by accident. We need to educate our children about pornography.
Kristina: Awareness is my primary goal today. Many parents don't even know this exists. You can't prevent something you don't know anything about.  I am grateful you are making everyone aware.  It can't be easy to tell your story.
Jane: It is very difficult to talk about. When I first started coming forward with my story, I started Googling 'sibling sexual abuse.' Google was almost silent. I thought, well, I can't be the only one. So I started coming forward with my story. I had survivors reaching out to me, saying thank you for talking about this. Then I started having parents reaching out to me, saying this happened in their family. Today, I have four or five people reach out to me daily. This silent epidemic destroys families. But, I truly believe that we can put a dent in the numbers if we educate our children and if we educate ourselves.
Kristina: What are the signs of sibling sexual abuse so parents can look out for it in their homes?
Jane: There's one thing I do want to share. First and foremost is that approximately 40% of children who are sexually abused show no signs. 40% show no signs! That's why I feel prevention is in education.
Parents, you know your kids best. Kids don't generally change for no reason overnight. If there's unexplained anger or all of a sudden they don't want to go to someone's house, or they're wetting the bed, then consider this as a possible cause.
Kristina: These kids need help. Both the abuser and the person that got abused need help.  Where can parents find help?
Jane: I am a full-time advocate. I have lots of websites and resources on my site. I'm not making any money from this. I'm just bringing about awareness. To start, I have a FREE PDF for your audience they can download with a list of resources.  
Kristina: To get that FREE PDF of resources, you can go to https://theimpactfulparent.com/siblingsexualabuse, and Jane's website is www.complicatedcourage.com
Jane: I want to tell your audience that you are not alone if they are victims or a parent of sibling sexual abuse.  Get help. You are not alone, and there is help for you.
Kristina: Jane, thank you so much.
If you have an inspiring story and want to share your story with The Impactful Parent community so that others can learn from you, please go to https://theimpactfulparent.com/work-with-me and sign up.
You can also become a more impactful parent by checking out all that my website has to offer. I have parenting courses, family coaching, 30-day challenges, and lots of free resources. But until next time, you got this, parents. I am just here to help.
It takes a lot to run a business and family! Here are a few products I recommend:
Gabb Wireless: The BEST first phone for your child! 
No internet, no social media, and NO WORRIES! This phone has GPS tracking and other features that parents want to have peace of mind about their child having a phone. The Gabb Wireless phone has the sleek look of a smartphone that kids love without worry and high price.  To find out more and order your phone (or watch) go to: gabbwireless.com/promo/IMPACTFULPARENT30
The Contract Shop
Protect your contact and your business with the Contract Shop. The Contract Shop provides DIY legal contracts that you customize for your business and your business needs.  Contracts are important and legal documents are boring!  The Contract Shop provides the security you need without the big price tags of an expensive law firm. Try it out today and please use my affiliate link for referring you because I get a small kickback for recommending The Contract Shop products.  Here is your link: https://thecontractshop.com?ref=kristinacampos
Mobile Monkey
Mobile Monkey helps you gain more engagement in your social media posts by providing you with a ROBOT to client questions in your DM. This bot is genius and saves so much time!  Use your robot to respond to common questions, to create keywords your audience can type in order to receive special links, get analytics, auto-responses and so much MORE!  Mobile Monkey should be helping every content creator's business because at this low price- there are no excuses for getting more time, ease in your business, and increased engagement!  Please use my affiliate link to order: https://app.mobilemonkey.com/instachamp?a_aid=kristinaann