Controlling YOUR Emotions To Be A Better Parent with Cristina Moise.  This episode gives tips to parents for controlling their emotions and why it is an important part of good parenting.
Click on the link below to listen to the podcast!
Controlling YOUR Emotions To Be A Better Parent. Links in Episode 👇
Rate, Review, & Subscribe!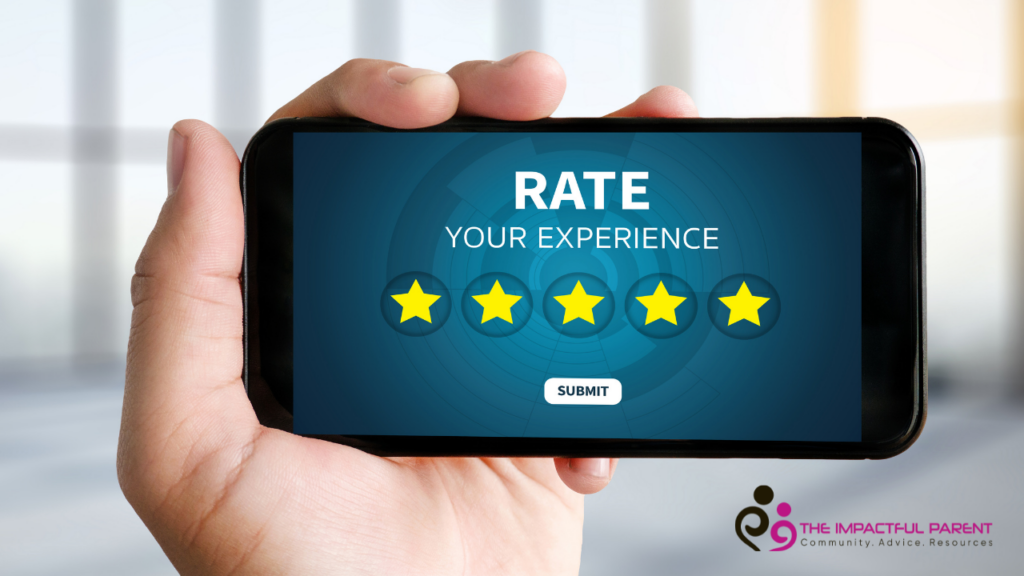 "I love Kristina and all the FREE tips that she has to offer!  Thank you for making my parenting journey better!"  <– If that sounds like you, please consider rating and reviewing my show! This helps me support more people — just like you!!!
Rate with five stars, and select "Write a Review." Then be sure to let me know what you loved most about the episode!
Also, if you haven't done so already, subscribe to the podcast. I'm adding a bunch of bonus episodes to the feed and, if you're not subscribed, there's a good chance you'll miss out. Subscribe now!
Transcript for Controlling YOUR Emotions To Be A Better Parent.
Kristina:  Welcome impactful parents. Today we are going to talk about how to balance yourself emotionally as a parent.
Hello, my name is Kristina Campos. I'm the founder of The Impactful Parent. Today we have a special guest Cristina Moise. Cristina is the founder of Refresh Your Mind. She guides parents to overcome anxiety and become emotionally balanced to be better parents. Thank you for being here, Cristina.
Cristina: Thank you.
Kristina: Parenting is full of overwhelm! I feel like I'm overwhelmed about 90% of my day! So how can parents manage the overwhelm in their life?
Cristina: My first suggestion is to take time for yourself. I know this is difficult.  I also suggest you write down everything you think you need to do.  What you will notice is, as you reflect on your to-do list, things will become clear. The list will look manageable, or you will find things you can cross off and do later.  You can also prioritize items and others you can put at the bottom of the list.  
Next, examine the list and consider items you can delegate to others. Don't be afraid to ask for help or support.
Kristina: Parents should delegate tasks to their children. For example, if your child is old enough to do laundry. Then have them do their own laundry. Period.  If they aren't old enough yet, then parents should be teaching their children to do laundry. Small children love to be helpers, and I teach my kids from a very young age to help me fold clothes and separate clothes by color.  
Another emotion common amongst parents is anxiety.  What are some tips for overcoming anxiety?
Cristina: Anxiety is nothing more than fear about the future. Ask yourself, what is the successful outcome that I want? Imagining a success-based scenario is what will help you through the anxious times. Our projections about the future are very much based on our experiences from the past. To overcome our bad past experiences, parents need to have several good counteracting good experiences and a mindset shift focusing on the positive.
Kristina: Children have a special knack for pushing our buttons. They trigger our emotions and bring up our unresolved feelings from our past.
Cristina: Yes! Children remind us that there's something that needs to change. There is some unresolved business or emotions from our past that is not fully released and need attention. To be honest, I thought that parenting was all about educating our children.  I was wrong.  Instead, children teach the parents more about themselves. Parenting forces many people to readdress their past feelings and get closure so they can move forward.
Kristina: I couldn't agree more. There is nothing like parenting, to bring up all the stuff from your past that you didn't even know bothered you. Give yourself grace. Everybody has things that they're going to have to deal with.  Good parents will reexamine those deep-seated emotions and grow from their experiences.  Each generation, hopefully, gets more perspective and improves themselves.
Cristina: Parents naturally want to ignore or suppress the negative emotions that parenting will drag up.  This is natural, but we have to resist surpassing the emotions. Instead, we need to deal with those emotions to release them.  Negative emotions are actually good.  Yes, they are uncomfortable, but the truth is, we will get the biggest growth and the biggest learnings from these emotions. Uncomfortable negative emotions are like someone knocking on your door. It is something saying to you that something requires your attention. Let go of your negative emotions from your past. Many learnings, new information, and new perspectives about yourself can develop from addressing the root of your emotions.
Kristina:  Thank you for talking with me, Cristina.  Parents need to self-examine their emotions and curate some self-love.  Too often, parents only focus on the children and keeping the children happy. Still, it is just as important to care for ourselves, so we can be better parents.
And if anyone in the audience wants to become a more impactful parent, check out my website. I have parenting courses, family coaching, 30-day challenges, and lots of free resources for you and your school-aged child. But until next time, you got this, parents. I am just here to help.
It takes a lot to run a business and family! Here are a few products I recommend:
Gabb Wireless: The BEST first phone for your child! 
No internet, no social media, and NO WORRIES! This phone has GPS tracking and other features that parents want to have peace of mind about their child having a phone. The Gabb Wireless phone has the sleek look of a smartphone that kids love without worry and high price.  To find out more and order your phone (or watch) go to: gabbwireless.com/promo/IMPACTFULPARENT30
The Contract Shop
Protect your contact and your business with the Contract Shop. The Contract Shop provides DIY legal contracts that you customize for your business and your business needs.  Contracts are important and legal documents are boring!  The Contract Shop provides the security you need without the big price tags of an expensive law firm. Try it out today and please use my affiliate link for referring you because I get a small kickback for recommending The Contract Shop products.  Here is your link: https://thecontractshop.com?ref=kristinacampos
Mobile Monkey
Mobile Monkey helps you gain more engagement in your social media posts by providing you with a ROBOT to client questions in your DM. This bot is genius and saves so much time!  Use your robot to respond to common questions, to create keywords your audience can type in order to receive special links, get analytics, auto-responses and so much MORE!  Mobile Monkey should be helping every content creator's business because at this low price- there are no excuses for getting more time, ease in your business, and increased engagement!  Please use my affiliate link to order: https://app.mobilemonkey.com/instachamp?a_aid=kristinaann