Getting Out Of Overwhelm with Lindsey Peterson talks about how parents can stop the chaos and come to a place of calm to be a more impactful parent! 
Click on the link below to listen to the podcast!
Get Out Of Survival Mode Links in Episode 👇
Rate, Review, & Subscribe!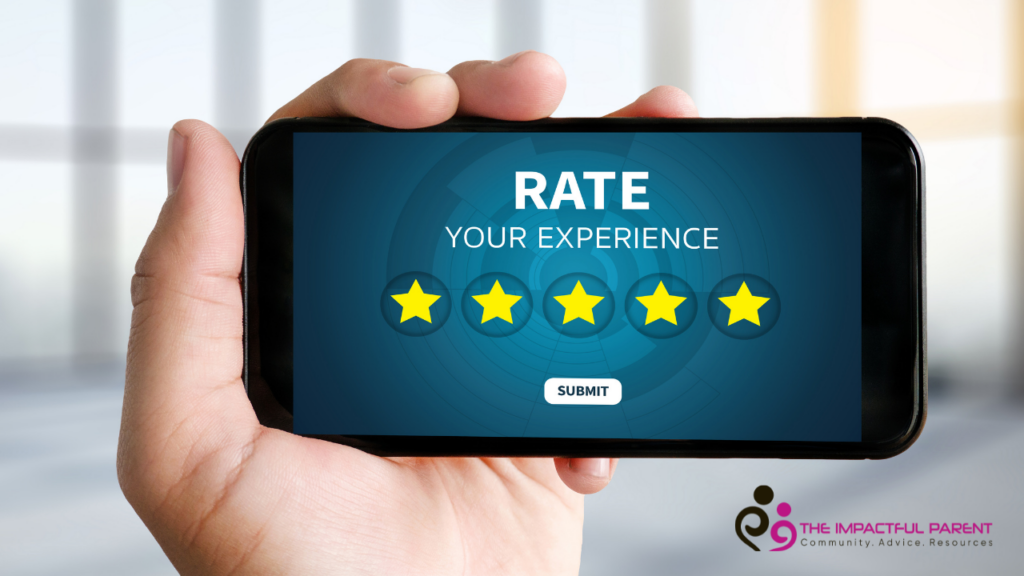 "I love Kristina and all the FREE tips that she has to offer!  Thank you for making my parenting journey better!"  <– If that sounds like you, please consider rating and reviewing my show! This helps me support more people — just like you!!!
Rate with five stars, and select "Write a Review." Then be sure to let me know what you loved most about the episode!
Also, if you haven't done so already, subscribe to the podcast. I'm adding a bunch of bonus episodes to the feed and, if you're not subscribed, there's a good chance you'll miss out. Subscribe now!
Transcript for Get Out Of Survival Mode
Kristina: Welcome, parents. Today we're going talk about how to get out of survival mode in our parenting. Hello everyone. My name is Kristina Campos. I'm the founder of The Impactful Parent. I help parents of school-aged children turn their chaos into connection with their adolescents. I offer free parent education videos every week. I offer online courses and coaching. If that wasn't enough, I bring experts in other fields onto The Impactful Parent stage to teach us even more. Today I have a special guest, Lindsey Peterson. Lindsey teaches women how to have more energy and be less overwhelmed when it comes to daily living. Thank you for being here, Lindsey.
Lindsey, I want to start off with what does survival mode looks like? How do I know if I am in survival mode?
Lindsey:  We're crabby, we're overwhelmed, we're tired, and we're exhausted. We're finding ourselves snapping at the littlest of things. Suddenly, our child might say, Mom, stop yelling. It's not fun. And we're surely not being that role model that we want to be for our kids.
Kristina: No, we don't want to be in survival mode. We want to feel good. And when we feel good, we're better parents. So tell us, Lindsey, how can I get out of survival mode if I find myself that I'm there?
Lindsey:  Start to build awareness of when you are in survival mode. Look for a fight response or flight response, or freeze response.
The fight response looks like we're yelling, screaming, or raising our voices.
The flight mode response feels like you want to give up. No more of this.
And the freeze response has you stuck. Mom? Mom? Are you there? You're stuck there speechless. Or you don't know what to do. You don't know what to say. You don't know how to act.
Then how do you get out of survival mode once you realize you are experiencing a fight, flight, or freeze response?  You have to create calm.  Calm is the secret to getting out.
Kristina: Can you teach me a calming strategy to get out of survival mode?
Lindsey:  Yep. Absolutely. One of my favorite strategies to use is stomach breathing. There is a difference between lung breathing and stomach breathing.
To start, put one hand on your chest and one hand over your stomach. Take some intentional breaths.  Notice where your breath is right now. Close your eyes and notice where your breath is? Is it in your lungs, or is it in your stomach?
Often, our breath is in our lungs because we've got things going on, we're busy. We're feeling overwhelmed or nervous. When we feel like this, our breath comes from our lungs. I want you to shift your breath from your lungs to your stomach. Intentionally telling your breath to shift to your stomach. Once your breath I coming from your stomach, take three deep breaths.
Lung breath is actually a survival breath. When we are in a true survival situation, we breathe from our lungs. That breath keeps us alert. The stomach breathe does the opposite.  The stomach breathe calms us down.
Kristina: What happens if we just tried that and it didn't work?
Lindsey: Don't use it. There are lots and lots of calming strategies out there. Simply find one that works for you. I have plenty more I can teach you, or you can grab them off my website.
Kristina: I also have a FREE PDF called 20 Ways To Cope.  On there, I give you more than 20 ways to calm down and ways to cope with anxiety and frustration.  It is meant for kids, but honestly, it can work for adults too.  You never know what will work for you, so it is important to try several techniques and see what works best.  You can get my free pdf at https://theimpactfulparent.com/20waystocope
Lindsey: Yes, and just because a technique works well for one person doesn't mean it will work well for you or well for your child.
Kristina:  Tell us more about what you do, Lindsay, in case people want to reach out to you for more.
Lindsey: I start off by helping moms get out of survival mode.  Then I work with mom to stay out of survival mode. I teach you tools and strategies to keep you happy, healthy, and balanced.
Kristina: Thank you for being here today. Lindsey, there is so much that you can offer other women, and I so appreciate that.
And if you would like to become a more impactful parent or listener, check out all that my website offers.  I have parenting courses, family coaching, 30 Day challenges, and lots of free resources. But Until next time, you got this, parents. I'm just here to help.
It takes a lot to run a business and family! Here are a few products I recommend:
Gabb Wireless: The BEST first phone for your child! 
No internet, no social media, and NO WORRIES! This phone has GPS tracking and other features that parents want to have peace of mind about their child having a phone. The Gabb Wireless phone has the sleek look of a smartphone that kids love without worry and high price.  To find out more and order your phone (or watch) go to: gabbwireless.com/promo/IMPACTFULPARENT30
The Contract Shop
Protect your contact and your business with the Contract Shop. The Contract Shop provides DIY legal contracts that you customize for your business and your business needs.  Contracts are important and legal documents are boring!  The Contract Shop provides the security you need without the big price tags of an expensive law firm. Try it out today and please use my affiliate link for referring you because I get a small kickback for recommending The Contract Shop products.  Here is your link: https://thecontractshop.com?ref=kristinacampos
Mobile Monkey
Mobile Monkey helps you gain more engagement in your social media posts by providing you with a ROBOT to client questions in your DM. This bot is genius and saves so much time!  Use your robot to respond to common questions, to create keywords your audience can type in order to receive special links, get analytics, auto-responses and so much MORE!  Mobile Monkey should be helping every content creator's business because at this low price- there are no excuses for getting more time, ease in your business, and increased engagement!  Please use my affiliate link to order: https://app.mobilemonkey.com/instachamp?a_aid=kristinaann