Using The Enneagram for Better Parenting with guest Erin Baute talks about how the enneagram can be a useful tool for personal development as a parent AND help parents identify the needs of their children also. In turn, the enneagram can help parents fill the needs of their children better also.
Click on the link below to listen to the podcast! 👇
Rate, Review, & Subscribe!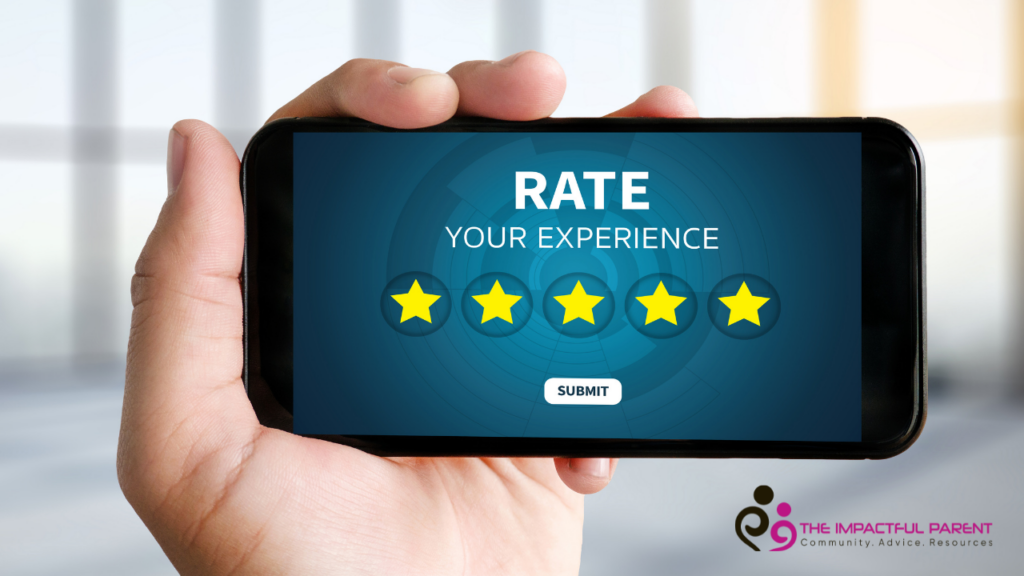 "I love Kristina and all the FREE tips that she has to offer!  Thank you for making my parenting journey better!"  <– If that sounds like you, please consider rating and reviewing my show! This helps me support more people — just like you!!!
Rate with five stars, and select "Write a Review." Then be sure to let me know what you loved most about the episode!
Also, if you haven't done so already, subscribe to the podcast. I'm adding a bunch of bonus episodes to the feed and, if you're not subscribed, there's a good chance you'll miss out. Subscribe now!
Using The Enneagram for Better Parenting
Kristina: Welcome, The Impactful Parent. Today, we will talk about the Enneagram and how it can illuminate our ability to emotionally regulate ourselves and our kids. Hello, my name is Kristina Campos. I'm the founder of The Impactful Parent. Welcome to my Inspire and Learn series, where real parents come on and tell their stories of inspiration and learning because a wise man learns from his mistakes. Still, a wiser man learns from other people's mistakes. Today, we're going to learn from our guest speaker,  Erin Baute. Erin is a development coach who uses the Enneagram model for personality to guide her clients to greatness and help them reach their full potential. So I'm really excited to have her on today and learn all about this. Thank you for being here, Erin.
Erin: Thanks for having me.
Kristina: Let's start off with, What is an Enneagram, and how did you get into this work?
Erin: That's a really great question. When I started working with the Enneagram, people were confused. The enneagram is a model of personality. It's an archetypal behavioral model. It is like Myers-Briggs or the DISC assessment or Strength Finders. I really fell in love with the Enneagram when I came across it because it went deeper than just categorizing behavior. It helped illuminate motivation and the why behind it, and we can work a lot more with folks and meet them where they are when we understand why, not just what we do. I'm a behaviorist by trade. I've been working in behavior change for about 20 years. And the Enneagram was one tool that found its way in my path, and I just fell in love with it. It helped sort of expedite the shifting process in a way I hadn't seen before.
Kristina Kristina: Tell me more about how you use it personally. How did this grow into you?
Erin: I was introduced to the Enneagram. At that time in my life, I really needed it for me. I started to dig into my own work in therapy and healing for my personal integration.
Kristina: How accessible is this? Is it something I could find online?
Erin: You can literally find it everywhere now, which is a really great thing.
Kristina:  How can I use this for parenting?
Erin: I discovered the Enneagram through work, but it wasn't until parenting that I recognized how much I needed it. I was told I couldn't have kids. We were dealt with some fertility issues and decided to explore adoption. We spent two years doing all the deep work around getting approved for adoption. We planned to meet with birth parents when I found out I was 12 weeks pregnant. In the state of Ohio, where we lived at the time, you couldn't be pregnant and adopt. I had a lot of mixed feelings. On top of it, I had a really, really hard pregnancy. I was very, very, very sick and then had a pretty traumatic birthing process. There were a lot of feelings that I had to deal with as a result of that.
My daughter was born with some pretty significant neurological challenges. I wasn't equipped or ready for the challenges ahead of me. I had to deal with my own feelings and emotions to take care of my daughter.
She's almost seven now. I often say she's my greatest teacher. I've learned the most from her because of what she's asked me to be and do.
Kristina: Oh, definitely, I cannot agree with you more. Parenting brings out so much in you that you didn't know you had inside of you. Good and bad. Things you didn't resolve in the past that you didn't realize were a problem anymore. Parenting brings it all up to the surface. We learn so much from parenting our children.
What tools can I use to emotionally regulate then using the Enneagram?
Erin: The Enneagram is a way in which we can identify our patterns, the things that trigger us, what our personality is, we can understand what we're really good at, we can understand our opportunities, and it's a map away into the embodied in terms of how I think how I feel and how I behave.
Right So typically, folks get really good at one of those areas. We have folks to orient in the world around how people make them feel. We have people who orient the world around what they think cognitively. It's the mind-body-heart approach of the Enneagram for me that aligns so beautifully to things like trauma-informed parenting.
Kristina: It sounds like something that once you can really use it and learn how to implement it. You can also identify it in your children, allowing you to be a better parent to them, too, because now you understand your kids on a different level.
Erin: Yes! The enneagram helps you discover who you are to be seen and validated and understand to get more quickly into the problem-solving work. And so when we can do that, for our kiddos, it is a way in which we can meet them where they are and help them sort of regulating and problem solve more quickly. The biggest barrier for us is our level of awareness. How well do I know myself? How well do I know what triggers me? That's where the Enneagram becomes a really powerful tool.
Kristina: Those are really big questions. It sounds to me like if this is the kind of work that you want to dive into, you also need to be pretty committed to being real and ready to do the work.
Erin: It's all about getting clear about who we are. Being able to hold the parts of us that are beautiful and unique. The Enneagram puts language into habits and patterns that might be harder for us to see because they're so ingrained. The first step for using the enneagram is to be open to seeing your life and your feelings for what they are.  You have to be ready to accept change and hard reflection work.
Kristina: It sounds like something that does not happen overnight. It's a process, something to really dedicate yourself to.
So tell me a little bit more about what you offer and what you can offer the audience.
Erin: My specialty is in behavior change. I'm in cyclical work. I help you know your individual personality type, so we create a pivot strategy that's unique to you. What motivates you versus what motivates me looks really, really different. My tenderness looks different than your tenderness. And so, to build successful strategies, we get to know who you are quick. Then we build a cycle around what looks like for you to make more room for your humanity, to allow our kiddos to grow up as full humans to be fully expressive. I do that through the lens of behavior change, with the work that I do being finite. Once you figure out a strategy, you're done with me, good, right. We can focus on the other tools and resources that we need to meet our kids where they are.
So our work is to take care of the container of ourselves as a parent so that we can be the container to help our kids learn to regulate. My work is to make room to learn how to manage it because that's what I'm doing. I'm learning to manage my big personality. And the hard part is that I'm learning at the same time. I'm teaching, right. And so that's often where you get stuck or frustrating is to be teaching from our gender places.
Kristina: Tell us if somebody resonates with you, how can they get ahold of you?
Erin: You can follow me @livingtheenneagram on Instagram. It's a place where I offer loads and loads of free resources. You can also check out my YouTube channel. Also, I am at www.livingtheenneagram.com
It takes a lot to run a family! Here are a few products I recommend.
Gabb Wireless: The BEST first phone for your child! 
No internet, no social media, and NO WORRIES! This phone has GPS tracking and other features that parents want to have peace of mind about their child having a phone. The Gabb Wireless phone has the sleek look of a smartphone that kids love without worry and high price.  To find out more and order your phone (or watch) go to: gabbwireless.com/promo/IMPACTFULPARENT30