Behavior Management For Strong-Willed Kids with Dr. Sarah Allen.  Dr. Allen talks about teaching coping skills to kids to build resiliency and improve behaviors.
Click on the link below to listen to the podcast!
Behavior Management For Strong-Willed Kids. Links in Episode 👇
Rate, Review, & Subscribe!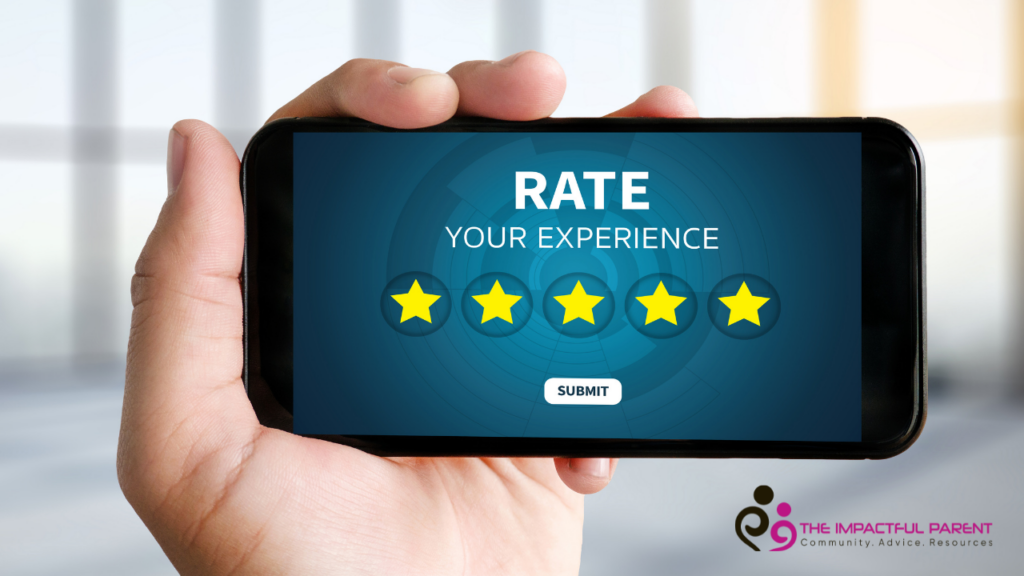 "I love Kristina and all the FREE tips that she has to offer!  Thank you for making my parenting journey better!"  <– If that sounds like you, please consider rating and reviewing my show! This helps me support more people — just like you!!!
Rate with five stars, and select "Write a Review." Then be sure to let me know what you loved most about the episode!
Also, if you haven't done so already, subscribe to the podcast. I'm adding a bunch of bonus episodes to the feed and, if you're not subscribed, there's a good chance you'll miss out. Subscribe now!
Transcript for BEHAVIOR MANAGEMENT FOR STRONG-WILLED KIDS:
Kristina: Welcome parents to The Impactful Parent's inspire and learn series where real parents come on and tell their stories of inspiration. Today we're going to be learning from our guest speaker, Dr. Sara Allen. Dr. Allen will talk to us about the importance of teaching kids coping and adaptive skills to grow into successful adults. Dr. Ellen has her own personal story of adversity. She is also an international book and best-selling author to a book called Raising brains. Dr. Ellen is a mom, of course. She has spent over 15 years studying neuroscience and brain development, so I'm really excited to hear what she says on the subject. Thank you so much for being here, Dr. Allen.
Dr. Allen: Thanks so much for having me.
Kristina: I want to start with your story. How did all this come about that you are so passionate about teaching coping and adaptive skills?
Dr. Allen:  When I started my parenting journey, I lost three kids. They all lived about an hour. I was pregnant with my first son and lost him at 23 weeks. It was all very difficult, but I'm a positive person. I picked myself up and kept going. I never thought it would happen again.  Then I was pregnant with twins. I lost them three days apart. Again they lived about an hour. When it happened again, it took my breath away.  It really kicked my butt emotionally.  
Then my luck changed. I had my daughter, Juliana. Soon after that, I birthed my son Carter.  Things were going well for a while, but my son got increasingly more difficult as he got older.  He's a wonderfully sweet little boy. He's passionate. Some may call him strong-willed. I call him "spirited." He had a lot of trouble controlling emotions.  Some parents may call kids like this obnoxious or oppositional. Some adults think that these kids are disrespectful.
We worked really hard to help him. "We," being my son and me, worked together.  I worked really hard to help him learn how to control his body and control his thoughts and control his mind. I didn't realize how much that would set him up to be successful. He is nine today, and he has an emotional intelligence of a much older child.  
I remember a time I was standing in the kitchen with my mother crying. Things were hard, and I wanted to help him, but it was so difficult. My mom said, " You should take him to see someone." That's when I started sobbing. I was the person that parents took their kid to see!
Fast forward, and I a grateful that I started those coping skills behaviors early with my kids because things got rough again. My sister was diagnosed with breast cancer at 28. She died at 29.  My mother battled cancer twice. Then my kids went through a divorce with my husband and me.  The result had us moving to a new town.  As if that wasn't difficult enough for them, the whole world shut down right after we moved.  They never had an opportunity to settle into their new school or environment.
In those times of difficulty, I leaned back on the 15 plus years of brain science that I had studied. I'm a neuropsychologist.  I do brain-behavior relationships with kids. I started helping other families too.  My book, Raising Brains, came about because I started writing down how I was helping my own kids and others.  Then that content also turned into a program I offer.
Kristina: One of the things that you said that really stuck out to me was, "WE worked really hard."  We being the keyword. I also have a behavior management program that I offer, and it is structured as a parent and child program. I believe that the parents are instrumental in helping the child change behaviors and learning coping skills.  It is a "WE" effort. The whole house is affected by the behaviors, and it takes collaboration to fix.  Kids need parental support.
Dr. Allen: We want parents and kids working together. Our job as parents is to teach our kids how to do these things for themselves. Teach kids how to be introspective. We need to teach kids how to gain self-awareness until they're capable of doing it for themselves.
Kristina: Yes. In my program, parents learn skills that help support their children. Everyone is learning and growing TOGETHER.
Dr. Allen: Parents forget that we are also teachers.  We want to teach kids the skills they need to build independence.
Kristina: Exactly.  Many parents make the mistake of focusing on the here and now.  They focus on trying to stop the behaviors they are seeing.  In reality, that is just a bandaid on a big wound.  Instead, parents need to focus on fixing the WHY of the situation and teach kids the skills they need to cope or stop the behaviors for themselves time and time again.  Not just the one-time fix. We want long-term solutions instead.
I also wanted to mention that you mentioned that YOU were the person people were supposed to be going to for help. Still, your own son couldn't control his emotions. Thank you for admitting this. I, too, have kids that couldn't control their anxiety and anger.  It is because we have been in our client's shoes that make us good resources for parents. We know what it was like.  It is also the reason why we made our programs to help others. I want the audience to know that everybody's home has a challenge.  That's ok! The main thing is, how are you going to react to this challenge?
Now, let's get to those tips for helping our kids that I know you want to give the audience!  If I have a strong-willed child, what can I do?
Dr. Allen:  Well, I have a couple things. My first suggestion is to understand your child's brain.  There's a part of our brain called the amygdala. I call her Amy G because she has the emotional energy. In the front of our brain, we have Franny, who is the voice of reason. When Amy G is freaking out, yelling and screaming,  Franny is trying to calm her down. The problem is, when that is happening, Franny can't think logically either. So what do we do?
The first tip is to just get some tools in your belt. Understand the way a kid's brain works. When your kid is kicking, screaming, and throwing their emotions, they're actually speaking with their behavior. That tells the parent that something is so upsetting that they can't control their emotions.
Tip number two, start asking questions instead of making statements. Ask yourself, What is it this little brain needs, and what can I teach this little brain? It's part of becoming a brain detective. When you shift your thinking, you're going to start seeing your kids in a very, very, very different way. In my parent program, we focus on understanding the brain first. I want parents to know what that little brain needs and then have tools to get working.
And then the last tip that I would give is just to make sure your brain basics are set. Pay attention to things like sleeping and eating. Everything that you put in your body turns into the chemicals your brain uses to think. Make sure your kids are eating low-fat milk and cheeses. We want to get some good proteins in there, like fish.
Sleep. We know that kids who don't sleep can look like they're ADHD. Also, during sleep, our brain goes through a cleansing process. The fluid that surrounds our brain cleans it out. It's like when you clean your desk off for the day, and you feel like you can actually think. That's what sleep does for the brain. We know that people who don't sleep can actually have some cognitive issues as well. Suppose your kids are snoring or getting up in the middle of the night. In that case, you definitely want to talk to your physician because that could cause some cognitive issues. And don't forget movement is important.  Make sure you're kids are getting up and moving around.
Lastly, establish routines and consistency.  I mentioned Frannie. She is regulating our emotions. She is trying to help figure out what we're going to learn and remember and pay attention to. She's pulling information. She's like the CEO of the entire brain, so she's got a lot going on. So anytime we can pull things off her plate and put them somewhere else, that's a good thing.  A routine does that.  
Kristina: What if I have a teenager? Parents don't have as much control over the eating and sleeping habits of teens. Do you have any recommendations for parents of teens in a similar situation?
Dr. Allen: I like to give teens information so they can understand the decisions we make for them and make better decisions themselves. You never want to get into this battle of wills. We want teens to build their independence so that they can be on their own. But the reality is, the teenage brain isn't fully developed either.  They may seem like competent people but inside, their brain still isn't functioning fully.
Kristina: Yes! I want to make a comment on that. I think the mistake that many people make is, they look at a teenager and forget their brain isn't fully developed, and they are still just kids.  Yes, they look like a young adult, and many act like young adults, but they all still go through times of difficulty because their brains are not fully developed.
Dr. Allen: Yeah, definitely. Teenagers have a lot of strengths. It sounds silly, but they can communicate their feelings, socialize, work. However, the front of their brain still prevents them from seeing long-term consequences and holding back behaviors. That's why teens have a ton of risky behaviors. They don't see the long-term effect.  PARENTS need to play the role of their frontal lobe.  Parents need to be the voice of reason and establish boundaries for their teens to keep them safe.
Kristina:  If people resonate with what you're saying and want to find out more about Raising Brains or your program, how would they find out more?
Dr. Allen: The best thing to do is email me at [email protected]. You can always go to my website as well, which is www.brainbehaviorbridge.com.  There are links to both my books on there and my program.  
Kristina: Thank you, Dr. Allen. And don't forget, audience, that The Impactful Parent also has a behavior management program that I would love for you to check out! This program is a DIY program. It is online. And the best part about it, you can find out more for FREE with my webinar. This webinar will give you the eight steps that you need to start seeing results in your child!  Go watch the webinar at https://theimpactfulparent.com/webinar. At the end of the webinar, I will give you a free PDF called 20 ways to cope just for taking your time to watch. This free PDF is a start to helping your child. Even the free webinar is very powerful so go check it out right now! But until next time, you got this. We're just here to help.
It takes a lot to run a business and family! Here are a few products I recommend:
Gabb Wireless: The BEST first phone for your child! 
No internet, no social media, and NO WORRIES! This phone has GPS tracking and other features that parents want to have peace of mind about their child having a phone. The Gabb Wireless phone has the sleek look of a smartphone that kids love without worry and high price.  To find out more and order your phone (or watch) go to: gabbwireless.com/promo/IMPACTFULPARENT30
The Contract Shop
Protect your contact and your business with the Contract Shop. The Contract Shop provides DIY legal contracts that you customize for your business and your business needs.  Contracts are important and legal documents are boring!  The Contract Shop provides the security you need without the big price tags of an expensive law firm. Try it out today and please use my affiliate link for referring you because I get a small kickback for recommending The Contract Shop products.  Here is your link: https://thecontractshop.com?ref=kristinacampos
Mobile Monkey
Mobile Monkey helps you gain more engagement in your social media posts by providing you with a ROBOT to client questions in your DM. This bot is genius and saves so much time!  Use your robot to respond to common questions, to create keywords your audience can type in order to receive special links, get analytics, auto-responses and so much MORE!  Mobile Monkey should be helping every content creator's business because at this low price- there are no excuses for getting more time, ease in your business, and increased engagement!  Please use my affiliate link to order: https://app.mobilemonkey.com/instachamp?a_aid=kristinaann