HOW DO HETEROSEXUAL PARENTS TALK TO LGBTQ TEENS ABOUT SEX?
I know it can feel embarressing and daunting. That's why this week's Impactful Parent video is here to give you tips and advice for having this important conversation. 😥 What should you say? 😰 How should you prepare? 😖 What if you mess up? This video gives you 5 steps for making this important conversation successful! You can do it!
Watch the Video below
How To Talk To LGBTQ Teens About Sex
The "sex talk" is hard enough as it is! How are heterosexual parents supposed to navigate this conversation with their LGBTQ child? Ugh! This is a whole other ball game! Or is it?
Hello, my name is Kristina Campos. I am the founder of the Impactful Parent. Every week I give you parenting videos that can help you in your parenting journey. If you have a particular topic or parenting question about your school-aged child that you would like me to address, please submit it at [email protected] or by messaging me on social media. All submissions are kept anonymous. 
Today's episode is about having "The sex talk" with an LGBTQ+ child. With more and more kids coming out, parents want to know how to talk to teens about sex and dating and what rules they need to implement in their households. Parents feel uncomfortable or unsure of themselves and what to say. Today, I will give you the answers you need to start this conversation. Let's get started!
—
This is a conversation you can't avoid. I don't care if you're embarrassed or uncomfortable. If YOU don't talk to your child about sex and relationships, someone else will. When kids have a "blank space" looking for knowledge or answers, they will fill in that blank space with their own narrative created by their friends, media, and other randoms. You don't want your child's sex education to come entirely from someone young, inexperienced, and experimenting. Also, research shows that LGBTQ youth have a limited amount of trusted adults they feel comfortable talking with about sex. This leads kids to go find answers online.
Parents should play a role in helping their children learn how to navigate healthy sexual relationships. Period. If you choose to avoid this important conversation, you can potentially set up your child for bad experiences. NO! You're an impactful parent and will have this conversation confidently because today, you will learn what to say.
How To Talk To LGBTQ+ Children About Sex Step 1: Acknowledge Your Own Feelings
It's normal to feel nervous or even ashamed when talking about sex with your teen, especially if they're LGBTQ. But suppose you want them to know they can come to you for help and support. In that case, you mustn't let those feelings get in the way of having open conversations about these topics. Acknowledge how difficult this might be for both of you. Remember that being honest about how we feel is critical when building trust between parent and child.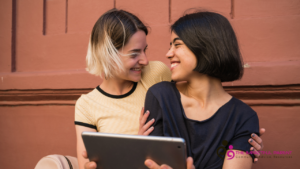 Dig deep and identify your fears. What are you afraid your child will do? What are you afraid your child will find out? What are you afraid will happen to your child as they explore their sexuality?
Know where your own boundaries are. What do you NOT want your child to ask? What will you say if they ask you something you don't want to discuss? Where will you send your child to get help if you can't help them? Discover these answers, so you're ready.
It's ok to admit to your child that you are uncomfortable too.
Acknowledging your feelings and concerns is important so you can face your fears and prepare for this conversation. Get help from another adult if you need it. Prepare yourself for the uncomfortable parts of this conversation so that they don't take you by surprise and you're ready to take on the conversation head-on!
How To Talk To LGBTQ+ Children About Sex Step 2: Be prepared and open to talking about sex
To have a good, open conversation about sex, you need to be willing and able to talk about it.
Don't assume anything. Don't assume you're child already knows anything or has already done things. For example: if your child has expressed they are bisexual, don't assume that they have already had relationships with boys and girls.
Be honest. Speak from experience, not from speculation. If you don't know something, don't fake it. If you need to learn more about something, say that you need to learn more, and you will get back to your child with an answer as soon as you know it.
Don't assume that your child will have the same experiences you did growing up.
It is essential to talk about safe sex, STDs, and preventing unplanned pregnancy, just like you would with a heterosexual son or daughter. If you are not familiar with best practices for safe sex with a same-sex partner, then do your research now, so you're ready to talk about it.
Yes, teen pregnancy is still a risk, even if you're child is gay or lesbian. Actually, LGBT teens have a bigger likelihood of teen pregnancy than teens in the general population. Be prepared to talk about birth control options and emergency contraception.
How To Talk To LGBTQ+ Children About Sex Step 3: Focus on building open communication between you and your child.
Start talking to your child about their body parts at an early age.
Use proper names for body parts, not cute ones like va-j-j or pee.
Initiate conversation, even if it's uncomfortable. When you initiate conversation, you also tell your child that the topic is ok to discuss. It's ok if they don't want to talk to you about things right then and there. They will probably need time to prepare themselves for this conversation too. Let your child know it's ok to revisit the topic whenever they feel comfortable.
Use gender-neutral language whenever possible to not assume you're child's preferences.
Don't overreact, get angry, yell, or scold a child when they are vulnerable. If a child is brave enough to ask questions, don't tease them.
And if you're child doesn't re-approach you to talk about sex, then initiate another talk at a later date. Sometimes it's just too difficult and embarrassing to start this conversation with parents. Some kids need you to take the initiative- even if they have things to say. They need their mom or dad to get the ball rolling, so revisit this conversation every few months.
The most important thing to remember when talking to your LGBTQ teen about sex is that you should do it in a comfortable way for both of you. If they ask questions, answer them honestly and openly–but if they don't want to talk about it, let them know that there will always be time later when they're ready.
How To Talk To LGBTQ+ Children About Sex Step 4: Now That Your Ready To Talk, You Need To LISTEN First.
You may be prepared and even excited to talk to your teen, but don't jump the gun. You don't want this conversation to be a lecture. Instead, you want your child to lead the discussion! Yes, you will initiate the talk, but once the conversation has started, it is time to ask questions and listen to their answers.
Start simple. Ask if the teen has a romantic interest in anyone right now. Ask if they have ever kissed someone else. Ask how the kids at their grade level show affection. You are not expected to know everything about your child's life. Still, parents must understand what their children are doing and thinking about.
Ask your child what they are curious about. You can give them examples of topics if they are too shy to ask about specific things. For example, you can ask your child, "Are you curious about what _______ feels like? Do you have questions about contraceptives? Is there anything that scares you about being in a relationship? What are you excited about trying? The bottom line is: ask open-ended questions that you can't answer, yes or no. This will allow your child to lead the conversation with questions they want to learn about.
Take cues from your teen. Please pay attention to their body language and facial expressions. If your child seems MORE uncomfortable than what you consider "ok," don't push them. You can try again later when they seem more relaxed and open to the conversation.
Talk to your child about PHYSICAL SAFETY. Online dating is becoming more popular among teens (especially the LGBTQ community because they may need to look outside their social network for romance.) Meeting strangers online is unsafe, and you will need to address this with your teenager. Talk out a safety plan you and your teen can agree upon that avoids high-risk situations and allows your child to meet new people and explore.
If your child is trans or non-binary, ask how they feel about sex, intimacy, and their specific concerns. Trans and non-binary people often feel uncomfortable in their own skin. In turn, this can affect their sexuality. Don't be surprised if your child has romantic interests but not sexual interests. These are two different things. Many want to love and intimacy without sexual intercourse or even sexual arousal.
Expect questions and be prepared to answer them. When your child asks a question about sex, it's easy to feel like you're drowning and can't get air. You might wonder if they're asking because they want to try something new or maybe test the waters. It's important to remember that this is their way of learning more about themselves and how they fit into the world around them.
How To Talk To LGBTQ+ Children About Sex Step 5: Create boundaries and rules together.
Don't treat your LGBTQ+ child any differently than a heterosexual child. Suppose your heterosexual child has rules about their boyfriend/girlfriend coming over and spending time in their room. In that case, your LGBTQ+ child should have similar boundaries. Discuss with your child your concerns and create rules TOGETHER that your teen can understand and abide by.
Consider having an open door policy (when the bedroom door must be left open whenever others come over.)
Talk about dating. What are the rules and expectations?
Start negotiating the expectations for Prom or Homecoming if your teen is old enough for these long-night dating opportunities.
Discuss specific rules for sleepovers. Will you allow overnight social opportunities, and how are the rules different?
Creating rules together may not be your forte. Many parents would rather take the "I said so" stance, but by creating rules together, you also increase the chances that your child will comply.
We hope these tips will help you feel more confident and prepared to talk with your child about sex. Remember, this is a challenging topic for everyone, and there is no single way to approach it. What matters most is keeping the lines of communication open, listening carefully, and responding to questions thoughtfully. Create boundaries together, and don't fake what you don't know. You got this! I am just here to help.
If this information was valuable for you today, BECOME a more impactful parent by downloading The Impactful Parent App. The Impactful Parent app is FREE and full of episodes like this one that will help you in your parenting journey. Investing in your family looks like learning the warning signs of certain behaviors so you can stop bad things before they start, discovering new parenting techniques to make your parenting more effective, and joining a community of like-minded parents that also want to be the best parent they can for their child. All of this, plus so much more, can be found inside The Impactful Parent app, so download it today. You got nothing to lose with this free parenting resource. Go to theimpactfulparent.com and discover how you can step up your parenting game and be a more impactful parent.
 But until next time, you got this, parents. I am just here to help.
It takes a lot to run a household! Here are a few products I USE and recommend:
Gabb Wireless: The BEST first phone for your child! 
No internet, no social media, and NO WORRIES! This phone has GPS tracking and other features that parents want to have peace of mind about their child having a phone. The Gabb Wireless phone has the sleek look of a smartphone that kids love without worry and high price.  To find out more and order your phone (or watch) go to: gabbwireless.com/promo/IMPACTFULPARENT30