When kids say, "They don't like me." In this episode, Kristina gives practical tips to parents for helping their children cope with the frustration and hurt of someone not liking them.
Click on the link below to listen to the podcast!
When kids say, "They don't like me." Episode links 👇
Rate, Review, & Subscribe!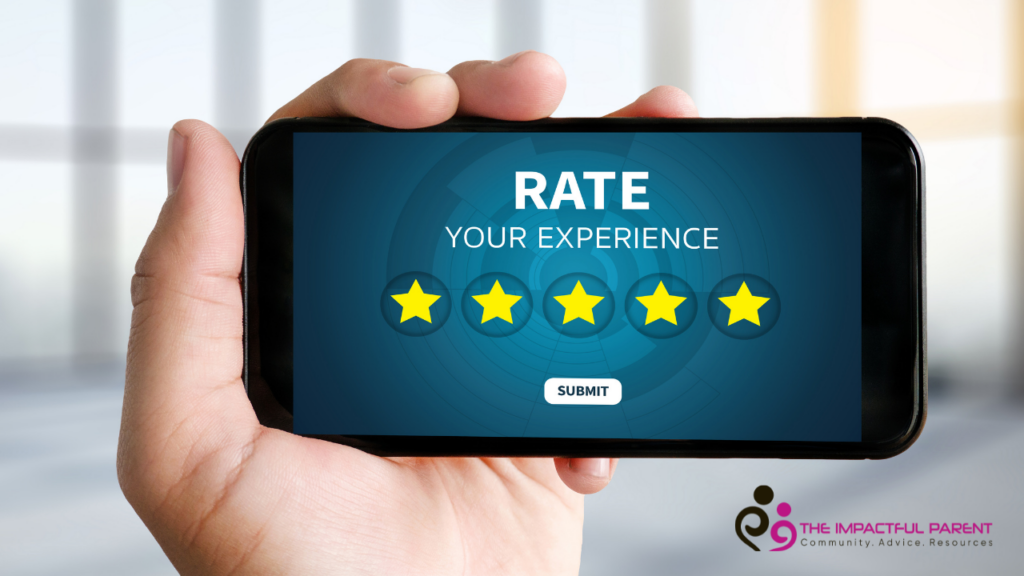 "I love Kristina and all the FREE tips that she has to offer!  Thank you for making my parenting journey better!"  <– If that sounds like you, please consider rating and reviewing my show! This helps me support more people — just like you!!!
Rate with five stars, and select "Write a Review." Then be sure to let me know what you loved most about the episode!
Also, if you haven't done so already, subscribe to the podcast. I'm adding a bunch of bonus episodes to the feed and, if you're not subscribed, there's a good chance you'll miss out. Subscribe now!
Transcript for THEY DON'T LIKE ME
Welcome impactful parents! Today, we will talk about how to teach our kids the lesson: Not Everyone is going to like you. 
Hi, My name is Kristina.  I am the founder of The Impactful Parent, and every week I come on here and answer one of your questions LIVE.  So if you have a question for me for next week, please email me at theimpactfulparent@gmail.com.  All submissions are kept anonymous. 
Today we have a great question.  It reads, my child gets really upset when they think someone doesn't like them at school.  It causes so much drama in our house.  How do I teach my child that not everyone will like them no matter what they do? 
This is a great question and not an easy situation.  Some kids are naturally people's pleasures.  It really bugs these kids when they think someone doesn't like them.  I am really glad this parent wrote in asking for help. It is important to support our children in learning the "Not everyone will like you" lesson as early as possible. They need to develop the coping skills they need to continue feeling good about THEMSELVES.  If they continue to wallow in the sadness of "that person doesn't like me," then it could affect their mental health, and your child will start getting into the habit of thinking like a victim.  We don't want them.  We want our kids to be confident and empowered. 
So what should parents do to help turn this victim mentality into empowerment?  Today I am going to give you 5 suggestions.  Let's get started.
First, you want to validate your child's feelings.  I know you might want to say, "Don't worry about it.  That person isn't worth your time, and who cares if they like you!" But that does NOTHING for your child.  Instead, let your child be heard.  Tell them that it's ok to feel sad that they think someone doesn't like them.  Validate that it doesn't feel good.  And then LISTEN. Don't try and fix anything.  Just listen.  Don't give advice.  Just listen.  Giving your child the stage to talk and let out their feelings BEFORE you start making suggestions is a priority. 
Step 2 is talking about the reasons WHY someone might not like them. Remind your child that it may not even be their fault or anything that they can control.  There are infinite reasons why someone might not like you, but here are a few of the most common reasons.
You remind the person of something they are lacking. Is your child better at a sport, gets better grades, is more attractive or likable? Your child might make others jealous of their successes and talents. Of course, this has nothing to do with your child. Instead, this is a reflection of the insecurities and jealousy of the other child. The jealous child likely feels bad about themselves because your child reminds them of their failures and imperfections.
Your child might remind them of something bad. For example, if your child looks like a bully from the other child's past, then your child won't be liked.  Again, not your child's fault. But the trauma of one person's past can cause them not to like you because you remind them of things they want to forget.
Your child feels like a threat. Sometimes a person will dislike someone who threatens their position. For example, does the other child think your child will steal their friends, take away from their attention, or steal their status? 
Perhaps the other child is projecting their own fears on your child. Some kids will gossip about others to empower themselves.  This is the classic case of someone bullying or putting someone down to build themselves up and regain some power. Ultimately, the other child feels powerless.
Go through this list with your child and examine with them, Could This Be Why?
Step 3 is to start asking questions about how YOUR CHILD's behaviors might have made the other person feel. As much as we would like to believe that our kids are angels, there are circumstances when our children provoke the situation.  Start a conversation about how their behaviors might have a domino effect on others.  Were they bragging too much? Were they leaving someone out on accident?  Were they talking about things that made others uncomfortable? 
The main point here is that your child needs to realize that their actions have reactions.  Talk about how they might have contributed to the situation.
Step 4 is to encourage your child to have a self-positive talk in their head. Even if they don't believe themselves at first, encourage your child to give themselves a pep talk throughout the day.  For example, have them think, "I am ok.  I don't need everyone to like me." "I can't please everybody, and that's ok. I can only be my best self." 
And lastly, encourage your child to spend time with people who do like them. Extra time with friends that will lift your child's spirits and make them gain confidence is easy for parents to allow and encourage. 
If you have a question for next week, please email or message me on social media.  And don't forget to check out my website, where you will find all kinds of stuff for your school-aged child-like free 30 day challenges, free pdf resource documents, online parenting classes, or sign up to have a free consultation to work with me directly.  Maybe family coaching can be the key to turning your chaos into a connection with your child!  Go to https://theimpactfulparent.com
But until next time, you got this, parents!  I am just here to help.
It takes a lot to run a business and family! Here are a few products I recommend:
Gabb Wireless: The BEST first phone for your child! 
No internet, no social media, and NO WORRIES! This phone has GPS tracking and other features that parents want to have peace of mind about their child having a phone. The Gabb Wireless phone has the sleek look of a smartphone that kids love without worry and high price.  To find out more and order your phone (or watch) go to: gabbwireless.com/promo/IMPACTFULPARENT30
The Contract Shop
Protect your contact and your business with the Contract Shop. The Contract Shop provides DIY legal contracts that you customize for your business and your business needs.  Contracts are important and legal documents are boring!  The Contract Shop provides the security you need without the big price tags of an expensive law firm. Try it out today and please use my affiliate link for referring you because I get a small kickback for recommending The Contract Shop products.  Here is your link: https://thecontractshop.com?ref=kristinacampos
Mobile Monkey
Mobile Monkey helps you gain more engagement in your social media posts by providing you with a ROBOT to client questions in your DM. This bot is genius and saves so much time!  Use your robot to respond to common questions, to create keywords your audience can type in order to receive special links, get analytics, auto-responses and so much MORE!  Mobile Monkey should be helping every content creator's business because at this low price- there are no excuses for getting more time, ease in your business, and increased engagement!  Please use my affiliate link to order: https://app.mobilemonkey.com/instachamp?a_aid=kristinaann