My Child Came Out. Now What? Support for the new LGBTQ Parent
I've been in your shoes. Watch and allow me to help you navigate through LGBTQ parenting. In this video, I give tips for:
* What to say during the "coming out" conversation (if you think it's coming)
* What NOT to say during the "coming out" conversation
* What parents should do in the few weeks after their child comes out.
* What parents should NOT do in the weeks after their child comes out.
* Important information that every new parent of LGBTQ kids should know.
*AND SO MUCH MORE! This episode comes with a FREE PDF to help you navigate your new parenting journey! Get your free PDF with the link in the comments or by downloading the Impactful Parent app! Both are FREE!
Click on the link below to listen to the podcast! 👇
Rate, Review, & Subscribe!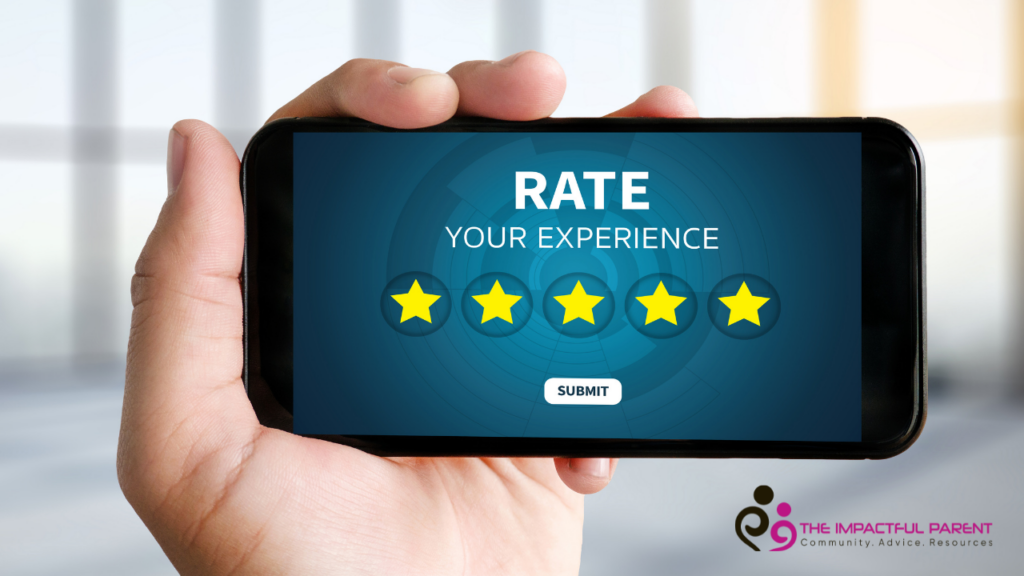 "I love Kristina and all the FREE tips that she has to offer!  Thank you for making my parenting journey better!"  <– If that sounds like you, please consider rating and reviewing my show! This helps me support more people — just like you!!!
Rate with five stars, and select "Write a Review." Then be sure to let me know what you loved most about the episode!
Also, if you haven't done so already, subscribe to the podcast. I'm adding a bunch of bonus episodes to the feed and, if you're not subscribed, there's a good chance you'll miss out. Subscribe now!
My Child Came Out. Now what?
Your child came out. Now what?
Or maybe you're one of the lucky parents who know this is coming. Perhaps, you already sense that your child may be preparing to tell you that they are Lesbian, Gay, Bisexual, Transgender, Queer, or non-binary?
Whether you anticipate your child may be coming out soon or maybe you just found out your child identifies with the LGBTQ community- this episode is for you!
Hello, my name is Kristina Campos. I am the founder of the Impactful Parent. Every week I give you parenting videos that can help you in your parenting journey. If you have a particular topic or parenting question about your school-aged child that you would like me to address, please submit it at [email protected] or by messaging me on social media. All submissions are kept anonymous. 
Today's episode is called "My child came out. Now what? This episode is all about supporting the new LGBTQ Parent. I will talk about what NOT to say and what TO say when your child tells you they are LGBTQ +. Then, I will explain how parents can best support their children moving forward in their new journey together. And stick around to the end because I will also give you a FREE PDF GIFT to help you become an Impactful LGBTQ Parent. Let's get started!
"When You Find Out" Conversation
Maybe you'll get a text message. Perhaps you'll get an email. Hopefully, you'll be having an in-person conversation with your child. However the announcement comes, remember that your child is brave and vulnerable when delivering their news. Your child might even be scared. How you react is so IMPORTANT. Your reaction will mean a lot to your child. You can fill your child full of love and support, or you can leave your child scared, ostracized, questioning, anxious, and disappointed. Yes, it is that important of a conversation. In fact, your reaction will set a precedent for how they expect many others to react. These and so many different reasons why nailing this first conversation can be a huge win for you as a parent. That's why today I will give you some specific DO SAY and DON'T SAY suggestions.
Let's say you already had this conversation; maybe it didn't go well. Don't worry. Listen to the suggestions, and it is NEVER too late to go back and apologize to your child. Also, it will give you ideas for some good starting points for moving forward as a supportive parent. We all make mistakes, especially those of us that may have been taken by surprise.
The following suggestions are included in your free PDF gift. You can download that PDF at https://theimpactfulparent.com/new2lgbtq
WHAT TO SAY:
Thank you for telling me. I love you.
I am glad you are stepping into YOU and being more of your authentic self.
How can I show you that I support you?
(If you need it, say) I don't want to say anything wrong. Can you give me some time to collect my thoughts? I love you. I wasn't expecting this.
I am always going to love you. Nothing has changed.
(After your child has said what they wanted, you can ask them questions. BEWARE: DO not ask a question if you FEAR THEIR ANSWER. You can ask your child those questions later. You may not be emotionally ready to ask those questions yet.)

How long have you been keeping this secret?
How comfortable are you telling others? Who do you want to know, and who do you NOT want to know?
Are there pronouns you want me to use? Names?
WHAT NOT TO SAY:
Do not say that you have suspected this for a while now.
Do not tell them that this is only a phase.
Do not find blame. Don't blame people, something that happened, or a place.
Please do not laugh and brush it off as a joke.
Do not get angry.
Remember, you can still recover even if you messed up this conversation the first time. The key to mending your child's trust in you is to be strong enough to be vulnerable and apologize. You must tell your child you are sorry about your initial reaction and claim fault. Then be weak sufficient to express your feelings and admit that you may not understand your child's situation. Still, you'll be there for them and stay open to learning.
What Now?
Alright, your journey has begun. Yes, a "journey." This ride is full of ups and downs. Buckle up, Momma. Coming out is not a one-and-done conversation. Coming out is a process. Every kid is going to go at their own pace. Rarely do children make lots of changes at once. Most will gradually change things 1, 2, or 3.
I understand that you may not yet be on board for all of this. Perhaps you see this as a phase your child is experiencing. Maybe you think that the whole thing is ridiculous. I will be honest with you and suggest that I need you to take the high road. Put your feelings aside for a moment and realize that what you say, how you act, and what you do in the next few days, weeks, months, and years will affect your relationship with your child moving forward. Do you want to show your child that you love them unconditionally? If your answer is yes, then keep watching.
I am not saying that your needs, concerns, and feelings are not important. They certainly are significant, but this video is about showing your child support. One way you will need to show your child support is by putting your feelings aside for a while so that you can open yourself up to being there for your child in a different way than you have been asked to show up before. Family support, especially parents' support, can be the difference between life and death for your child. Statistically, LGBTQ children have a high suicide rate; however, there are significantly fewer suicides from people with family support.
So, expect to work on yourself (your feelings, your needs, your emotions) simultaneously while keeping an open mind for learning how to best support your child. These can be two dichotomies for a while until the two sets of feelings and actions collide with inner work, counseling, and reflection.
So, suppose you are ready to support your child (even if you have a lot of opposition internally). In that case, the following are action items activities to do:
Educate yourself. Don't expect your child to educate you. Learn about the LGBTQ community, so you don't start filling in the blanks with things you have made up in your head.
Don't fake what you don't know.
Educate yourself about the differences between sexuality and gender. (PDF)
Educate yourself with the LGBTQ terminology of today. (PDF)
Ask your child what support looks like to them. Don't assume that what you do will come off as supportive. Your child will likely have real, concrete expectations about what support looks like to them, and you need to ask them to tell you. Is it using their new pronouns? Is it not telling everyone about them yet? Is it going to pride parades with them?
Do less talking and more listening now.
Please do your best to respect their new pronouns and the new name they want to use.
Take care with your comments about their new look and new friends. Remember that your child is very vulnerable when they are changing things initially.
Take care of yourself. Emotions are running high, and you likely need a counselor or support group to give you space to process everything happening. You can't be an impactful parent if you are stuffing down all your emotions all the time and not taking care of yourself. This is extremely important.
If you have homophobia or transphobia, please seek help to process these emotions as soon as possible. There will be a rift in your relationship with your child until you can resolve these feelings. Don't lose special time with your child. Please seek help from a mental health professional.
What other things do I need to know?
I understand that this may not be easy. You have a lot of things going through your head and heart right now. Emotions are probably running high. I can't stress the importance of getting some outside help for yourself. You need a support group or a counselor to talk things out and process those feelings.
Until you find your LGBTQ tribe of help, here are a few more things to remember.
Please don't feel bad that it may have taken a while for your child to tell you. Everyone does this at their own pace, and just because they may have been keeping this secret from you for a bit, don't take that personally.
Remember that this is not about you. This is about your child and them trying to be their authentic self. They are not doing this to make your life difficult.
Don't search for blame. When things happen that we don't understand or may not like, our first instinct is to blame someone or something for this happening. Remember that this isn't anyone's fault. This didn't happen because of their friends or something you did. No one is to blame for this.
Don't feel guilty if you have no idea. You shouldn't have known. It is not your fault that you didn't see this coming or didn't read the signs.
Don't take comfort that this is only a phase. This is not a phase. You have to assume that this is your child moving forward. Do not operate as though you expect their identity to change or go back to how things were before.
Many parents are fixers. You may even see this new information as your child's identity crisis. This type of thinking is incorrect. You can't fix this. This is not a fixable thing. You don't have control over your child's identity or sexuality. This is not a problem to be fixed.
I know you are probably worried about the future. What does this all mean now? Many parents are afraid that they will never have grandchildren. I know you're concerned about a lot but take things one step at a time. Your focus on the future can be addressed with your counselor or support group. For now, concentrate on today. How can you be an impactful parent to your child today? Today, your child needs your help and support. How can you do that for them right now?
Lastly, I would like to extend my help to you also. I am an LGBTQ parent, also. I've been through what you're going through and am still in it. I would be happy to support you in your LGBTQ parent journey through one on one coaching. I'm here to be a listening ear, a place to bounce off questions you might have, and a place to get advice. You can reach me via my website at theimpactfulparent.com/work-with-me to make a complimentary discovery session. We can discuss your situation and see if I am a good fit for your support.
Until we talk, you got this parents. I am just here to help.
It takes a lot to run a family! Here are a few products I recommend.
Gabb Wireless: The BEST first phone for your child! 
No internet, no social media, and NO WORRIES! This phone has GPS tracking and other features that parents want to have peace of mind about their child having a phone. The Gabb Wireless phone has the sleek look of a smartphone that kids love without worry and high price.  To find out more and order your phone (or watch) go to: gabbwireless.com/promo/IMPACTFULPARENT30